Dissolved CO2 Sensor
METTLER TOLEDO's InPro 5000i dissolved CO2 sensor allows for the accurate measurement and control of dissolved carbon dioxide in biopharmaceutical applications. The measuring principle is based on the Severinghaus principle of potentiometric CO2 measurement which has been widely accepted for over 55 years. The high surface finish of the stainless steel sensor prevents contamination and the sensor is fully sterilizable either in-situ or in an autoclave. The design of the membrane dramatically reduces full service time to just minutes. The interior body, a high performance pH electrode, can easily be replaced at your site. No need to send the sensor in for service.
Mettler-Toledo Intelligent Sensor Management
What exactly is ISM?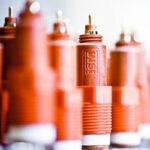 With Mettler-Toledo's advanced Intelligent Sensor Management (ISM), these concerns are a thing of the past! ISM has been around for years helping all kinds of processes have accurate and assured calibrations and maintenance statuses throughout the whole line of Mettler-Toledo sensors. This technology sends you automatic diagnostic data about your sensor's:
• Health • Dynamic lifetime • Calibration quality
• Glass strength • Sensor drift
Utilizing this technology would allow you to go into a run or experiment 100% certain that your probes will not be an issue and can move forward with peace of mind. By choosing one of the many Mettler-Toledo sensors equipped with ISM technology, you'll save on manual labor, experimental waste/time, and be sure you won't have experimental error due to sensor drift or misreading. With all of this, it makes it an easy choice to move towards ISM probes for your R&D lab or large-scale facility.
Which brings us to a really BIG announcement…
Mettler-Toledo recently launched ISM 2.0 which comes equipped with the same features described but with greater control, reliability, and software to bolster the ease of use and peace of mind that comes with these sensors. ISM 2.0 adds upgrades to the lifetime and calibration algorithms that make them even more accurate at telling you the health and quality of your data and sensors. The upgrade comes partnered with more robust software for enhanced process reliability.
Check Out These Popular ISM Sensors
CONTACT US – WE CAN HELP YOU SELECT THE PROPER COMPONENTS FOR YOUR APPLICATION!